The M.D. of Wainwright is situated in the heart of the agriculture and oil industries and is a major partner with one of Canada's largest military training bases. This makes the M.D. of Wainwright an area of diverse wealth both socially and economically and allows us to provide our residents with many services and the benefit of low taxes.
In addition, the M.D. of Wainwright offers various historical and recreational attractions for residents and visitors.
The M.D. of Wainwright is a progressive community that is a great place to live, work and raise a family. We are glad to welcome you.
Strychnine Consultation
ATTENTION FARMERS
If Strychnine Is An Essential Management Tool On Your Farm Make Your Voice Heard And Get Involved In The Consultation Process
Consultation on the Proposed Registration Cancellation of Strychnine and Its Associated End-use Products
Consultation will close on September 27, 2018
Health Canada is proposing to cancel the registration of Maxim 2% Liquid Strychnine Concentrate, and to require the removal of ground squirrels use from the label of S.A.R.M Gopher Poison R.T.U. Strychnine is a registered pesticide used by growers to control ground squirrels. Following a scheduled re-evaluation under the Re-evaluation Program, Health Canada's Pest Management Regulatory Agency is consulting Canadians on the proposal to cancel the use of strychnine for ground squirrel control due to effects on non-target animals. This review identified environmental concerns in the potential poisoning of non-target animals, including species at risk such as the swift fox and burrowing owl. There is concern mitigation measures would not be practical.
CONSULTATION ON STRYCHNINE – How to get involved
https://www.canada.ca/en/health-canada/services/consumer-product-safety/pesticides-pest-management/public/consultations/proposed-re-evaluation-decisions/2018/strychnine.html
$25,000 Funding from Farm Credit Canada
The M.D. of Wainwright is pleased to announce that it has received $25,000 in funding from Farm Credit Canada through their AgriSpirit Fund. These funds will be utilized to purchase a water tanker truck for the Irma Fire & Rescue Department which will greatly improve emergency services within the M.D.
Fall Cleanup
The M.D. of Wainwright will be supplying garbage roll-off bin for the purpose of fall cleanup initiative in your area.
The bins will be placed at Ascot Heights garbage compound, the Fabyan townsite compound and at the Clear Lake main beach. The fall cleanup initiative will be for a one week period from September 26th to October 3rd, 2018 at these locations.
The initiative is to provide you with the opportunity to dispose of yard cleanup materials and household materials that are not hazardous. Unacceptable materials would be tires, appliances, furniture, metals, hazardous waste, household chemicals, yard chemicals, and paint. These materials must be taken to the Wainwright Regional Waste to Energy Authority (Town Dump) for proper disposal.
Temporary Road Closure

2018 Saskatchewan Pasture Tour
The Saskatchewan Pasture tour is your ticket to the latest information on forage species, pasture management and farm stewardship programming. For more information see the broucher here.
Unacceptable Waste for a Front Load Bin
The M.D. of Wainwright and Waste Management would like to remind everyone that the following items are unacceptable waste for front load bins.
No appliances or furniture
Hazardous materials or any container having contained such material
Free liquids, oily wastes, oil filters oily rags, sludge's and semi-solids
Solvents, greases, empty containers
Paint, thinner or remover cans (unless RCRA empty, solidified or triple rinsed
Treated wood, railroad ties, industrial waste
Animal wastes and / or carcasses
Drums / containers (sealed)
Compressed cylinders (propane, oxygen etc.)
Batteries, transformer, ballasts
Herbicides and pesticide containers
Radioactive materials, naturally occurring (NORM)
Thank you from the M.D. of Wainwright No. 61 and Waste Management
Rural Municipalities of Alberta - Post Secondary Scholarship Program
The RMA Scholarship Program is designed to encourage young rural Albertans to pursue further education, and thereby enhance the ability of these young people to make meaningful contributions to their communities in subsequent years. A scholarship in the amount of $1,000 is presented to one successful applicant from each of the five districts.
Learn more..
CAP Announcement
On-Farm Energy Management Program
The On-Farm Energy Management Program along with the On Farm Solar Photovoltaics (PV) Program formally found within the Growing Forward 2 Program have moved. The On-Farm Energy Management Program now called the Farm Energy and Agri-Processing Program or FEAP can be found at www.agriculture.alberta.ca/feap. The On Farm Solar PV Program is now a provincially ran program and can be found at http://www1.agric.gov.ab.ca/general/progserv.nsf/all/pgmsrv464. Both websites will provide the terms and conditions, funding list and application form for there respective programs. Stayed tuned for more details regarding the Canadian Agriculture Partnership. If you would like more information you can contact Tanis at the M.D. office 780-842-4454
Alberta Environmental Farm Plan Renewal
Effective April 1, 2018
Producers who have an EFP older than 10 years will have to renew their EFP to eligible for new funding under the Canadian Agricultural Partnership Program (CAP)
It is strongly recommended that producers complete the renewal online to make future renewals easier,
FAQ's
Why is Alberta EFP instituting a renewal period?
Alberta is the only province that does not have a renewal period. EFP is harmonizing nationally and they expect all prov-inces will harmonize the renewal period
EFP's are part of sustainable sourcing programs in Canada (potato sustainability initiative, proAction, VBP). Alberta EFP is anticipating more initiatives will use EFP as the Environmental backbone of their sustainable sourcing initiative.

Who decided the renewal period would be instituted?
Alberta EFP Stakeholder Advisory Committee approved the renewal period
What does this mean to me?
For producers if you to apply for CAP grants you will need to have a current EFP.

Beat the rush by renewing before CAP funding becomes available!!!
Who Can I Contact?
Tanis Ponath, Assistant Agricultural Fieldman & EFP Technician, 780-842-4454
Changes to the Growing Forward On-Farm Solar PV Program
In order to further align this program with Energy Efficiency Alberta Residential/Commercial Solar Program, they have updated the retroactive projects clause as follows:
Retroactive projects that have been completed after April 15, 2017 are now eligible for funding. If a project has been initiated (ordering or purchasing equipment, equipment delivery, component construction, etc) prior to April 15, 2017 it will NOT be accepted. All installed equipment will be held to the following standards:
1. The system's modules must have at least a 20 year pro-rated warranty from the manufacture.
2. The system's inverters and/or micro-inverters must have at least a 10 year warranty from the manufacture.
3. Solar racking must be manufactured by a qualified commercial racking company.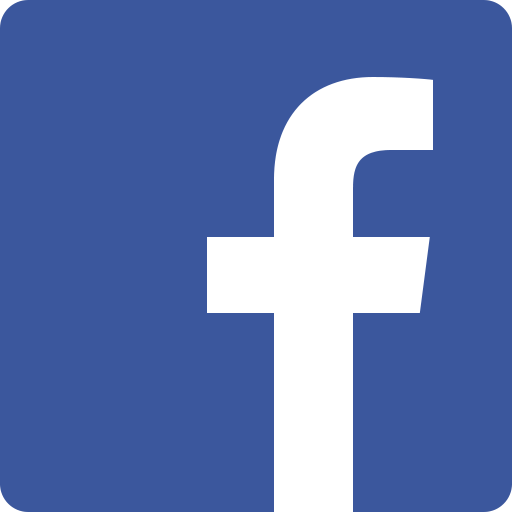 Join Us On Facebook
Road Closure Update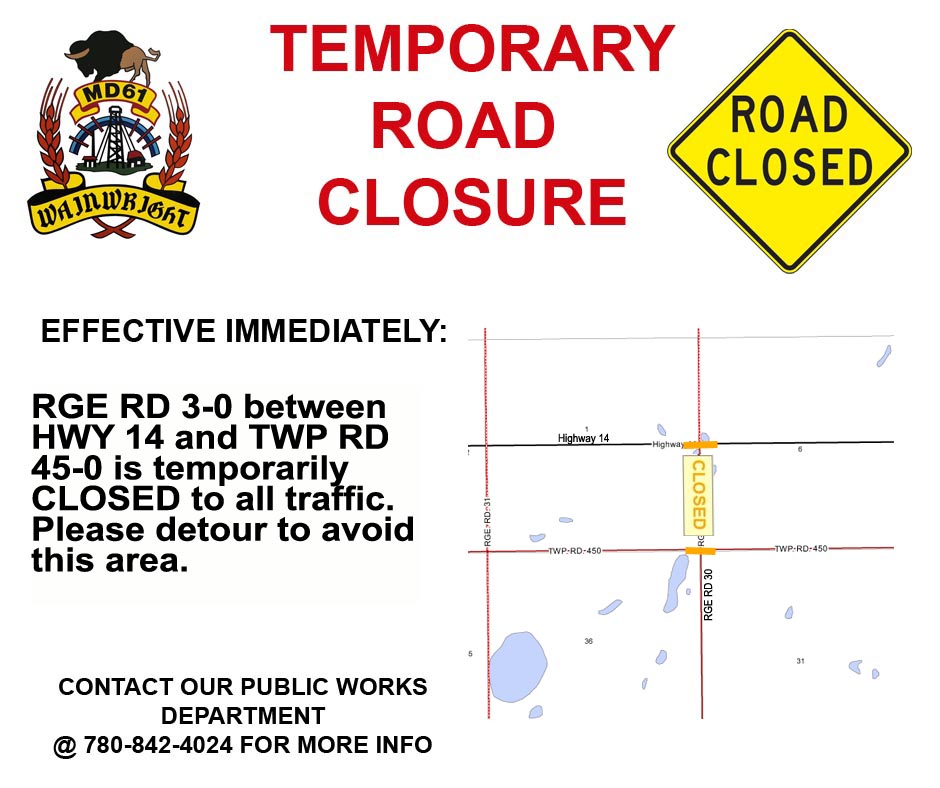 Road Closure Update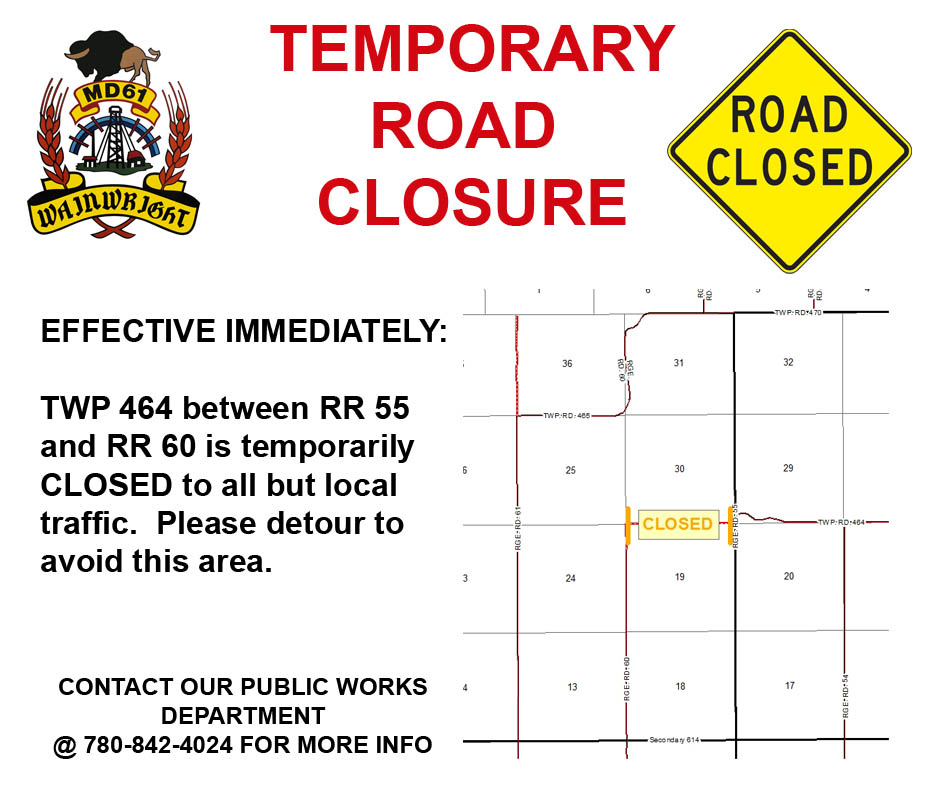 The M.D. of Wainwright has re-opened the 4 miles West of highway 897 on Twp Rd. 454.
The 1 mile of construction road on TWP 464 between RR 55 and 60 is still closed.
Thank you for your cooperation.