The M.D. of Wainwright is situated in the heart of the agriculture and oil industries and is a major partner with one of Canada's largest military training bases. This makes the M.D. of Wainwright an area of diverse wealth both socially and economically and allows us to provide our residents with many services and the benefit of low taxes.
In addition, the M.D. of Wainwright offers various historical and recreational attractions for residents and visitors.
The M.D. of Wainwright is a progressive community that is a great place to live, work and raise a family. We are glad to welcome you.
2018 Calendars are in
The 2018 M.D. of Wainwright Photo Contest calendars are in. Rate payers can get a copy at the aministration office. Thank you to everyone who submitted photos this year, and congratulations to the winners.
January: Chuck Hutchinson "Waiting out the Storm"
February: Sheila Naugle "Crisp Morning"
March: Colette Thurston "There's Two of Us"
April: Elizabeth Goddard "Spring Anticipation"
May: Sherry Christensen "Plant '17"
June: Damon Zajic "Summer Skies"
July: Heather Dubreuil "Hey Brother, What you Looking at?"
August: Margaret Hiller "Sunflowers"
September: Sheri White "Electric"
October: Damon Zajic "Race to the Rain"
November: Doug Kimball "Looking for a Girlfriend"
December: Sheri White "Silent Sentinel"
Front and Back Cover: Sherry Christensen "Last Stop"
Back Page: Judy Nemyo "Mother Nature is still Boss"
Unofficial Election Results
Division 1:
Buck, Oscar                 137        Elected
Seim, Arnold Sam            58
Division 2:
Fraser, Garrett             16
Krawchuk, Lance             53
Wilkinson, Ted              119       Elected
Divsion 4:
Valleau, Phil               191       Elected
Morey, Glenn                84


Rural Committee Participation
The Municipal District of Wainwright is looking for rural community representatives on various committees associated with the M.D. of Wainwright. Individuals appointed must be residents and/or rate payers of the M.D. of Wainwright and be willing to sit for a one to four year term. Community members are provided remuneration and expenses for attending committee meetings. We are looking for representation on the following committees:

• Wainwright Rural Recreation Board
• Villages of Irma, Chauvin and Edgerton Recreation Boards
• Villages of Irma, Chauvin and Edgerton Fire Area Boards
• Subdivision and Development Appeal Board
• Wainwright Inter-municipal Development Committee
• Agricultural Service Board (must be resident and ratepayer of M.D.)
Those interested are asked to submit a letter and/or resume, to the address below, stating which committee they are interested in representing including reasons why they are interested by October 19th, 2017 at 4:30 p.m. If you have any questions, please contact the M.D. office at 780-842-4454.
Municipal District of Wainwright No. 61
717 14th Avenue
Wainwright, Alberta; T9W 1B3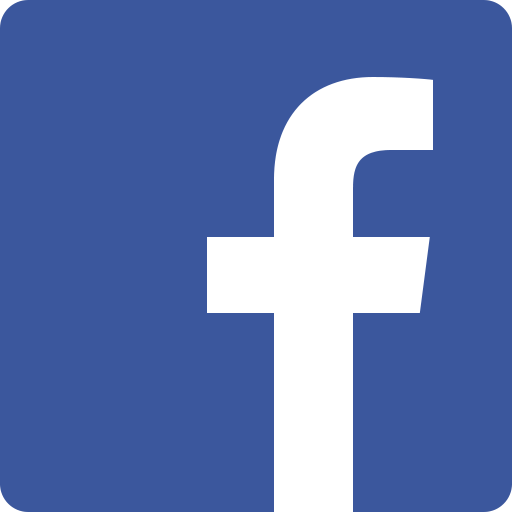 Join Us On Facebook
Division 3 Contact Information
Please take notice that the M.D. of Wainwright has decided to defer the election of the vacant Councillor position in Division 3 to the next General Municipal Election scheduled for the fall of 2017 instead of holding a by-election in the interim.
In the meantime, ratepayers and residents of Division 3 with issues or concerns involving roads, weeds, drainage, pests and other concerns may contact the following:
M.D. Administration Office - 780-842-4454
Reeve Bob Barss - 780-842-7309
Deputy Reeve Ted Wilkinson - 780-806-0315
Road Closure Update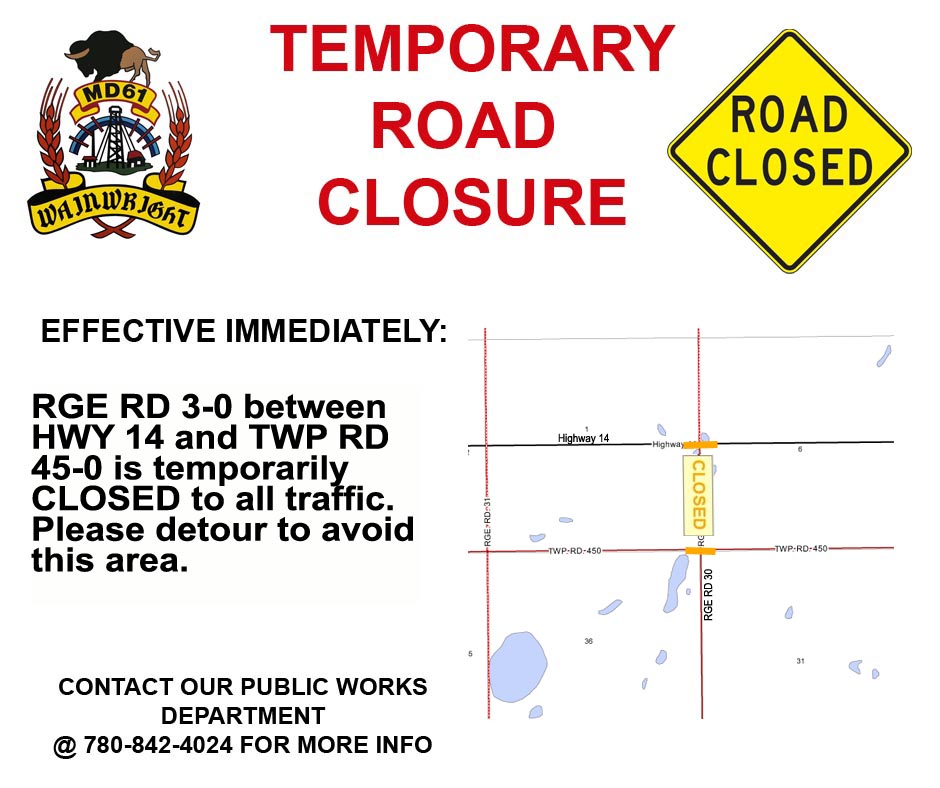 CLUBROOT OF CANOLA IS NOW HERE
It is recommended that all landowners ensure that any farm, industrial, recreational equipment or vehicles entering your land is clean of all dirt and/or field residue.
Clubroot of Canola is transferred by soil and it is
YOU'RE RESPONSIBILITY
To ensure foreign soil is not transferred onto your land.
Also be reminded that if you are purchasing equipment/machinery, using custom operators, have industrial traffic or allow recreational vehicles on your land it is
YOU'RE RESPONSIBILITY
To ensure the equipment is clean and free of dirt/field residue prior to it entering your land.
For more information:
Contact the M.D. of Wainwright
Office at 780-842-4454
Alberta Leaders Training
Take advantage of Local Government Training session, at no cost. The sessions are designed to help candidates:

understand the significance, character, roles and responsibilities of an elected official in local authorities
Appreciate the significance of and legal obligations associated with local authority office
Understand the basic requirements of running an ethical campaign
Develop the understandings that will permit potential candidates to decide whether local authority office is something to which they truly aspire
Understand the requirements of running well-organized effective campaigns
Understand rights and obligations of candidates and candidate's agents with the election administration regime

For more information, or to register for a session, go on-line to: albertaleaders.ca or call 780.796.3836
Road Closure Update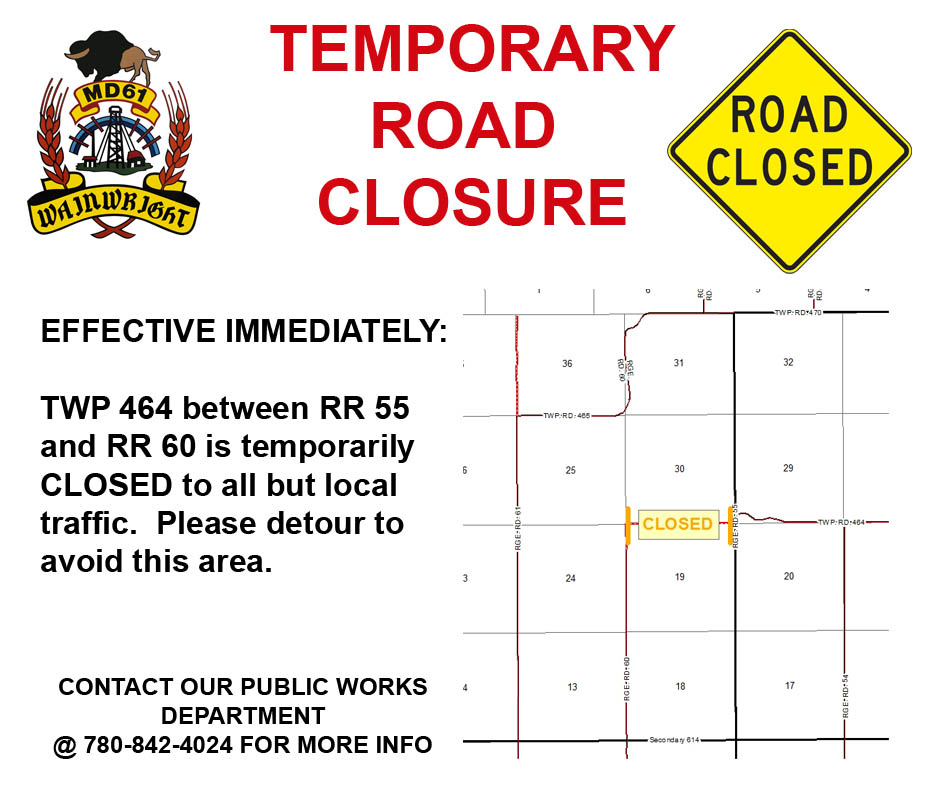 The M.D. of Wainwright has re-opened the 4 miles West of highway 897 on Twp Rd. 454.
The 1 mile of construction road on TWP 464 between RR 55 and 60 is still closed.
Thank you for your cooperation.
Information about Alberta's Agricultural Service Boards
The Agricultural Service Board Grant Program promotes long-term sustainability of agriculture industry and rural communities and the development and delivery of environmental extension programming. ASBs are responsible for implementing and enforcing legislative requirements under the Agricultural Service Board Act, the Weed Control Act (WCA), the Agricultural Pests Act (APA), the Soil Conservation Act (SCA) and assist with the control of animal disease under the Animal Health Act (AHA). Full document can be download here.