Home
Rural Addressing in the M.D. of Wainwright
Rural addressing is a standardized system of identifying and locating rural properties. The M.D. of Wainwright will be assigning addresses adhering to the standards set by Alberta Municipal Affairs, which are widely used by rural municipalities throughout Alberta.
The M.D. of Wainwright Council approved moving forward with rural addressing as part of its 2016 Budget. The system will aid Emergency Medical Services, Fire, Police, utility companies, couriers and other visitors in finding your residence or business quicker.  The M.D. awarded the contract to Kalitec in June and they are currently producing the signs.  Their contractor will start marking locations for installation on Monday Aug 15, 2016 and all signs should be completed by October 31, 2016.  If you have any questions please see the FAQ at the bottom of this page.  If your question is not answered there please contact the Administration office at 780-842-4454 and we will do our best to answer your questions.
Reading rural addresses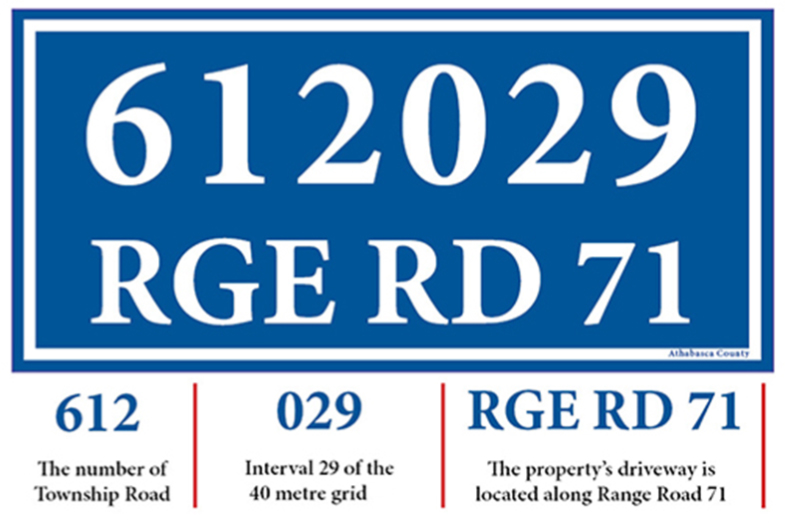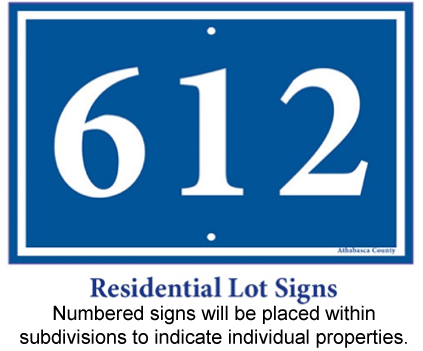 Sign Placement
There are standards for the way rural addressing signs are to be placed in the M.D. This is being done to ensure emergency services can easily find the main entrance to your property from the roadway when they are called.
The signs can only be installed by M.D. of Wainwright Public Works Staff, or contractors conducting this work on behalf of the M.D. Each rural property will receive signage that will be placed according to Bylaw No. 1587, Schedule A – Sign Placement.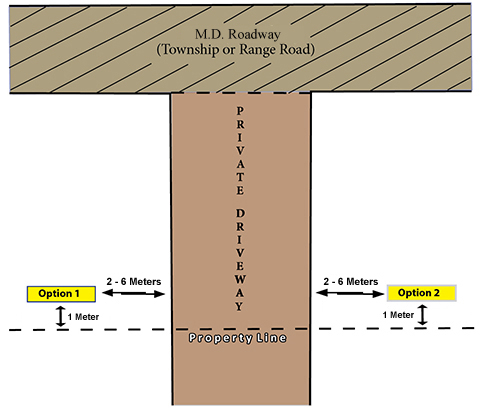 How does it work?
Rural addresses are based on the location of the primary access to a residence or business along a road allowance. 
Each mile of road is divided into intervals of 40 metres, with numbers increasing from South to north and East to West. Even number addresses are placed along the North and West sides of a road allowance and odd number addresses are placed along the South and East side of a road allowance.
Reference the road to the east if the Primary Access is off a Township Road or to the south if the Primary Access is off a Range Road. For the purposes of addressing, virtual township roads exist between all sections, whether an actual road allowance exists or not. 
Example #1:  643008 RGE RD 213 – The access is along the West side of RGE RD 213. It is located in address interval 8. 643 is the intersecting TWP RD number to the South.
Example #2:  213033 TWP RD 644 – When there are multiple accesses, the primary access is used. In this case, the access is along the South side of TWP RD 644. 213 is the intersecting RGE RD to the East, and 33 is the interval the primary access is in.
Example #3:  643032 RGE RD 213 – When there are multiple accesses along the same side of a road allowance, the primary access, interval 32, is determined.
Example #4:  643072 RGE RD 213 – When there is one access along a TWP RD, one access along a RGE RD, and no clear primary access, the access along the RGE RD is typically chosen.
Example #5:  643009A & 643009B RGE RD 214 – When there are multiple residences located off the same primary access, the first building off the access is designated "A", the second building is designated "B", and so forth.
Example #6:  643047(5, 12, 16 & 21) RGE RD 214 – Subdivision addresses are also based on the location of the primary access on a road allowance. Each parcel within a subdivision will be assigned a unique number. The lots are numbered clockwise using an increment of 4, with odd numbers along the East and South, and even along the West and North. The lot number is to be used along with the six-digit rural address for your full address.
Frequently Asked Questions
How do I get a Rural Address? Where a rural address has not previously been assigned or where an approach application is approved for a new approach or multi-lot subdivision, the address will be determined and assigned when a development permit is issued or when a subdivision is approved.
What are the benefits of using Rural Addresses over a Legal Land Location? A legal land location will identify where a property is located on a specific quarter section whereas a Rural Address will pinpoint the access to the property off of a road allowance.
Is the Rural Address the same as a Mailing Address? No, they are two different addresses. Your current Canada Post mailing address will not change, so please continue using your existing mailing address to send and receive parcels and letters.
Who assigns Rural Addresses and who will have access to my address? Rural Addressing information is assigned and maintained by the M.D. of Wainwright. Rural Addresses are shared with TELUS Communications to link to TELUS 911, 911 Dispatch and Emergency Responders.
What do I do with my new Rural Address once I get it? You don't need to do anything with your new rural address, other than memorize it! Your new Rural Address is primarily for emergency response. If you ever need to call 911, you can give the 911 dispatcher this address. We recommend posting your Rural Address near every phone in your house. Also be sure to educate your children as to what your Rural Address is, what it is for, and how it should be used in the event of an emergency.
Is it mandatory? Yes, all developed rural properties with an inhabited residence or business will require a Rural Address and proper signage.
I live in a village or hamlet.  Do I get an address also? Yes.  Each house in Fabyan, Jarrow and Ribstone has a house number just like the Town of Wainwright, Irma and Chauvin.  Each street will have a road name like 1st Avenue, 2nd Street.
The Municipal District of Wainwright has implemented a TAX AUTOPAY program allowing us to direct debit a monthly payment from your banking institution towards your current year tax levy.
To be eligible, your 2017 tax levy must be paid in full and you must complete a PRE-AUTHORIZED DEBIT FORM (forms available at our office or for download here). For further information, please call or come in to see us at:
Municipal District of Wainwright No. 61
717 - 14th Avenue
Wainwright, Alberta T9W 1B3
Phone: 780-842-4454
Fax: 780-842-2463

Download Pre-Authorized Debit Form as a PDF file
Other forms

Assessment Review Board Complaint Form


Assessment Complaints Agent Authorization
The M.D. of Wainwright is situated in the heart of the agriculture and oil industries and is a major partner with one of Canada's largest military training bases. This makes the M.D. of Wainwright an area of diverse wealth both socially and economically and allows us to provide our residents with many services and the benefit of low taxes.
In addition, the M.D. of Wainwright offers various historical and recreational attractions for residents and visitors.
The M.D. of Wainwright is a progressive community that is a great place to live, work and raise a family. We are glad to welcome you.
The Municipal District of Wainwright No. 61 is saddened to hear of the passing of Quinn Duguid. Quinn was a valued employee of our Consruction crew for a number of years. Our condolences go out to Quinn's family and friends.
2018 Strychnine Sales
2017 Completed Construction
Construction Operators/Labourers & Summer Students
Arm Lake Recreation Area Management
The Municipal District of Wainwright No. 61 seeks innovative proposals from interested parties for Arm Lake Recreation Area Management for a 3-year term beginning in 2019. Those interested are invited to obtain a proposal package at the M.D. of Wainwright office located at 717 – 14th Avenue, Wainwright, Alberta during regular business hours.
Submissions marked "Arm Lake Recreation Area Management" will be accepted until 4:30 p.m. MST. April 5, 2018 at the address indicated below.
Any inquiries respecting this Request for Proposal should be directed in writing to Kelly Buchinski at This email address is being protected from spambots. You need JavaScript enabled to view it..
Municipal District of Wainwright No. 61
Attention: Kelly Buchinski
717 – 14th Avenue
Wainwright, Alberta
T9W 1B3
On-Farm Energy Management Program
The On-Farm Energy Management Program along with the On Farm Solar Photovoltaics (PV) Program formally found within the Growing Forward 2 Program have moved. The On-Farm Energy Management Program now called the Farm Energy and Agri-Processing Program or FEAP can be found at www.agriculture.alberta.ca/feap. The On Farm Solar PV Program is now a provincially ran program and can be found at http://www1.agric.gov.ab.ca/general/progserv.nsf/all/pgmsrv464. Both websites will provide the terms and conditions, funding list and application form for there respective programs. Stayed tuned for more details regarding the Canadian Agriculture Partnership. If you would like more information you can contact Tanis at the M.D. office 780-842-4454
Alberta Environmental Farm Plan Renewal
Effective April 1, 2018
Producers who have an EFP older than 10 years will have to renew their EFP to eligible for new funding under the Canadian Agricultural Partnership Program (CAP)
It is strongly recommended that producers complete the renewal online to make future renewals easier,
FAQ's
Why is Alberta EFP instituting a renewal period?
Alberta is the only province that does not have a renewal period. EFP is harmonizing nationally and they expect all prov-inces will harmonize the renewal period
EFP's are part of sustainable sourcing programs in Canada (potato sustainability initiative, proAction, VBP). Alberta EFP is anticipating more initiatives will use EFP as the Environmental backbone of their sustainable sourcing initiative.

Who decided the renewal period would be instituted?
Alberta EFP Stakeholder Advisory Committee approved the renewal period
What does this mean to me?
For producers if you to apply for CAP grants you will need to have a current EFP.

Beat the rush by renewing before CAP funding becomes available!!!
Who Can I Contact?
Tanis Ponath, Assistant Agricultural Fieldman & EFP Technician, 780-842-4454
Wainwright Regional Landfill Rate Change
Effective January 1st, 2018, the Wainwright Regional Landfill tipping fees will increase as follows. Plus GST on all Rates.
| | | |
| --- | --- | --- |
| | Current Rate | 2018 Rate |
| Clean Burnable Construction | $33.04 | $33.70 |
| Clean Concrete | $14.58 | $14.87 |
| Construction Waste | $99.08 | $101.06 |
| General Household Waste | $66.06 | $67.38 |
| Metal | $33.14 | $33.80 |
| Shingles | $33.14 | $33.80 |
If you have any questions please call the Wainwright Regional Landfill at 780-842-4051
Changes to the Growing Forward On-Farm Solar PV Program
In order to further align this program with Energy Efficiency Alberta Residential/Commercial Solar Program, they have updated the retroactive projects clause as follows:
Retroactive projects that have been completed after April 15, 2017 are now eligible for funding. If a project has been initiated (ordering or purchasing equipment, equipment delivery, component construction, etc) prior to April 15, 2017 it will NOT be accepted. All installed equipment will be held to the following standards:
1. The system's modules must have at least a 20 year pro-rated warranty from the manufacture.
2. The system's inverters and/or micro-inverters must have at least a 10 year warranty from the manufacture.
3. Solar racking must be manufactured by a qualified commercial racking company.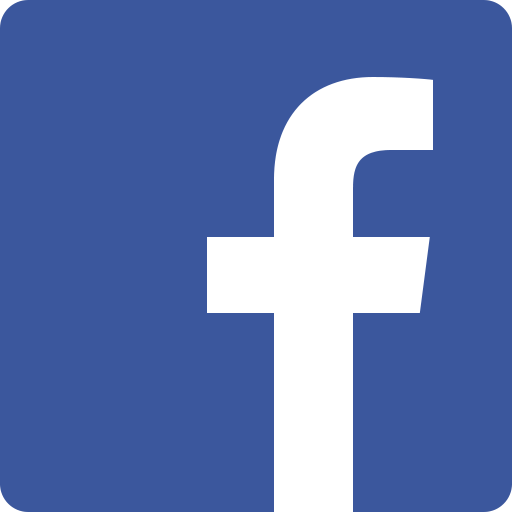 Join Us On Facebook
Road Closure Update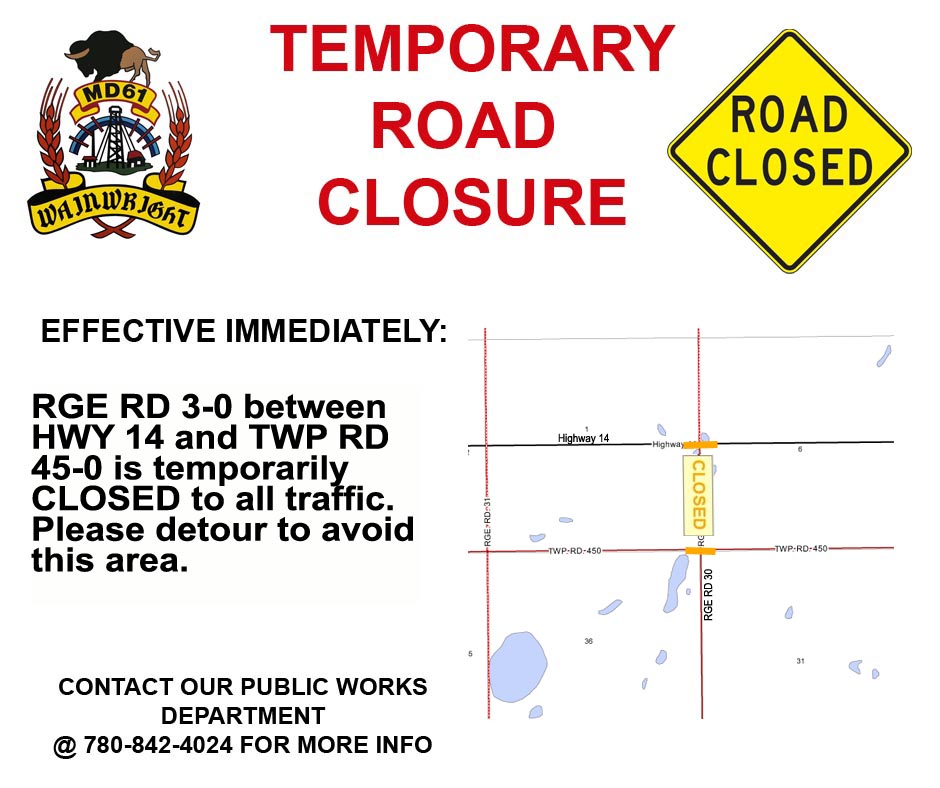 Road Closure Update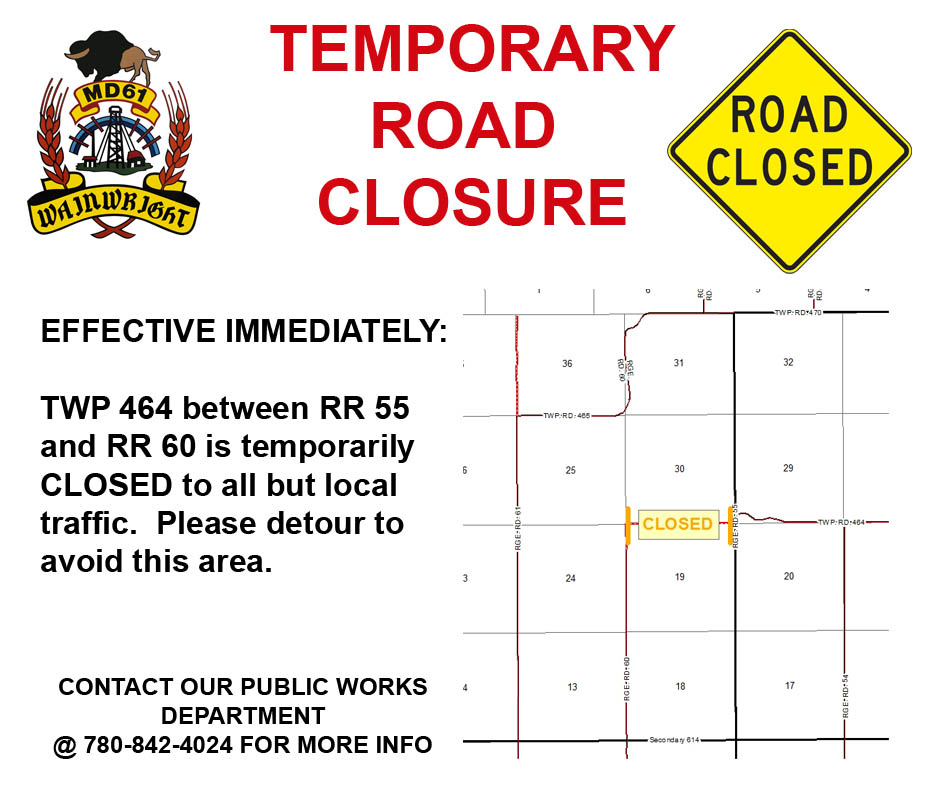 The M.D. of Wainwright has re-opened the 4 miles West of highway 897 on Twp Rd. 454.
The 1 mile of construction road on TWP 464 between RR 55 and 60 is still closed.
Thank you for your cooperation.